That feels like an ironic post title considering the amount of snow we've had over the past few days ...
Hi there. It's been a while, huh? I guess I've been on hiatus for a little while. Let's just say its been a dramatic few weeks. Culminating in me being completely overcome by the pox (chicken, not small). It's strange, being in sick-world. I've never been this poorly, and everything (work, cleaning, washing hair) has been suspended, leaving me hovering in this 'pause', every day hoping to get closer to getting better.
Today is Sunday. A chicken roasts in the oven. My husband has gone to church. I'm sitting here, looking out into my garden, where the snow thaws and melts. For the first time I am glad that I am ill. Thankful for my isolation. Because today God feels closer than He has in a long, long time.
You'll be happy, guys. The scales have been lifted from my eyes. I can see again! If chicken pox is what it took, well, then, so be it.
Yesterday I bought
1000 Gifts by Ann Voskamp
on my Kindle. I had been uhming and ahhing for a few days about which book to buy, and I'd downloaded a few samples, but that one struck me the most. I couldn't recommend it more so far. It's beautiful. A story about a woman struck with worry and haunted by grief, and how a simple challenge of 'Name a thousand things that you're grateful for' completely changed her view of life and God. I can see why it is such a huge phenomenon (one that I am pretty late in discovering).
It started to stir something in me. Some deep-dwelling thing in me. Like a creature waking up from a sleep. I read huge chunks of it aloud to Chris, suddenly shouting out after minutes of silence 'OH! Listen to this bit!'
This morning, still in the midst of chicken-pox quarantine, I was unable to go to church. I saw my husband off and prayed for his safety in the snow. I felt a bit sad. But I lit candles and I put my Spotify Hillsong playlist on and I tried to concentrate on worshipping and I opened my Bible.
It flipped open to Song of Songs, where a bookmark was. I removed it ('I could use this bookmark somewhere else'). Then changed my mind and put it back in. ('I'll keep it there for now. But I'm not reading Song of Songs this morning'). I flipped back a few books. I closed my eyes.
I heard a muffled 'flump' and looked back. I was on Song of Songs again.
My brain woke up. I decided to read. What I read made me weep.
My beautiful one, and come with me.
The rains are over and gone.
Flowers appear on the earth;
the season of singing has come,
The fig-tree forms its early fruit;
the blossoming vines spread their fragrance.
my beautiful one, come with me.'
Don't think that I just presumed this was definitely for me. Oh no. I'm a skeptic and a doubter and a cynic. I question pretty much everything. Even as I could feel these words seeping irresistibly into my heart, I questioned. I have to pray even to ask for God to give me the faith to believe what He says to me. But the tears kept coming and my joy kept swelling and it drowned out the static of my unbelief.
This verse means the world to me. For a multitude of reasons, some of which I won't go into. One of them being that I even wrote in my prayer journal the other night:
'I feel like I've been in winter, and maybe it's starting to change. Maybe I'm thawing a little bit.'
I read this and I cried and cried. It's over. The long long winter of flatness and sighs and words on the page seeming flat and uninspiring and old. It's over.
Arise. Come with me.
How is it that I'm worthy of this?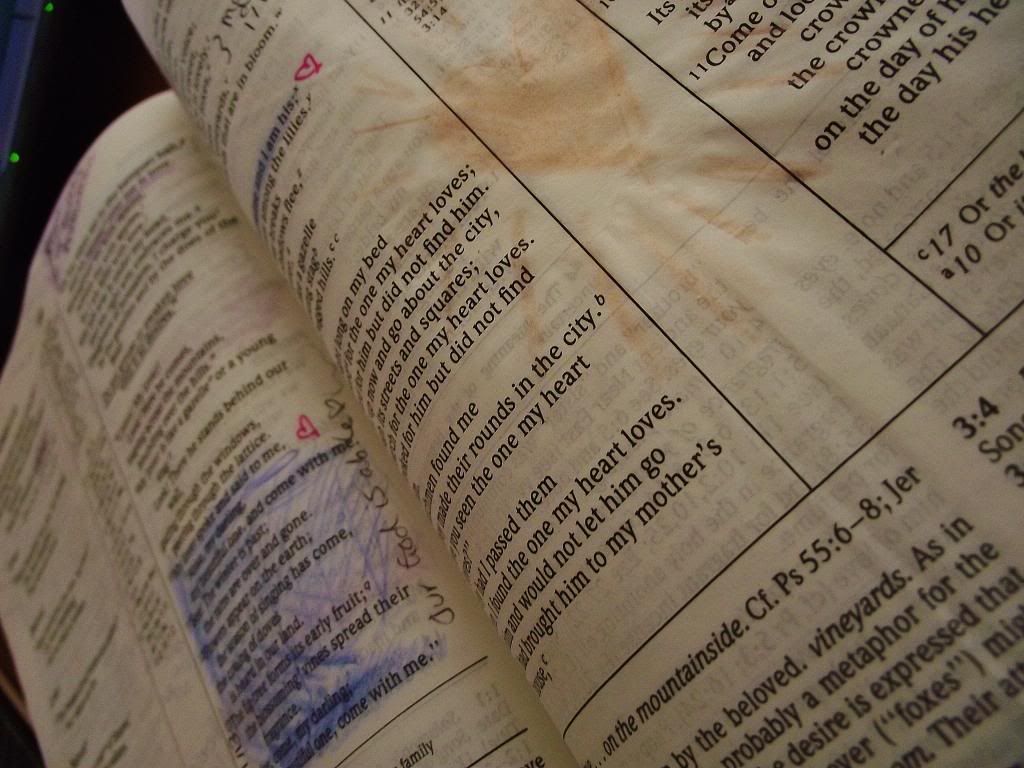 How have I missed this? Or was it there buried within me somewhere, forgotten? Abandoned? How did my heart harden and my eyes become clouded to the simple truth that God speaks love over me? That the Bible is full of it, woven with it, this message that God loves us and He loves us despite our mistakes and He cries out for us to come back to Him? How did I miss it in every day life? How have I not been seeing His love in everything? In my family, my friends, my husband? In the tiniest and biggest of things?
I have overcomplicated things with issues of theology and trying to see too far ahead.
My mission is to see God's love for me. To celebrate Him. To rejoice. To tell people. To show it. 'Look! He loves us! Can't you see it?'
This? This coming home? It feels good.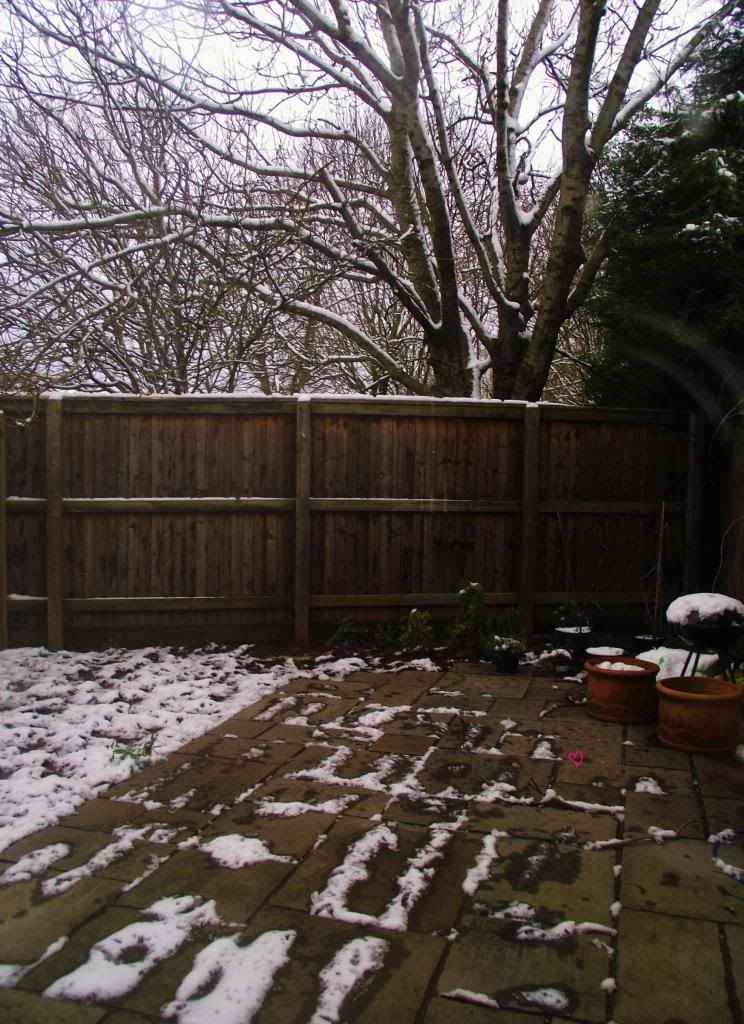 My husband is back. He's peeling potatoes. The snow outside thaws and melts.
I am home.